Clubhouse History
Article contributed By Bill Holbrook, s/v Wandering Puffin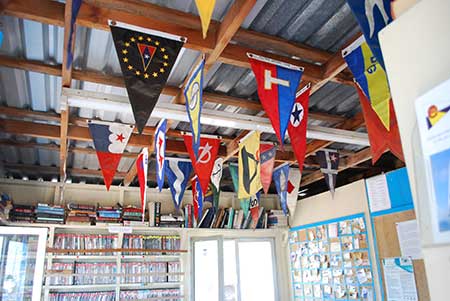 Neil Shroyer has said that the original clubhouse building was moved four times.  It was originally built in the space now occupied by the Dock Restaurant. It was subsequently moved to where the launch ramp is now, then to the place now occupied by the dive shop, then the watermaker building, and finally to the location adjacent to Encinas Street. 
Click here to read about the 2006 Clubhouse move and see the video contributed by Greg & Jill Delezynski, s/v Guenevere
By late summer 2013, the building had been treated several times for termite infestation, but was considered unusable.  A committee from the Club met with Mac and Neil Shroyer and a decision was made to replace the Clubhouse building with a new and improved structure.
In September, the building was moved from its supporting concrete slab to an adjoining spot in the parking lot.  A new section of concrete slab was poured, doubling its size from about 500 square feet to 1,000 square feet.  A steel frame was erected and the new clubhouse took shape.  Marina de La Paz paid for the concrete slab and erection of the steel framework.  Marina employees put on the covering roof and he exterior siding.  The Club Board had prepared the interior layout, including a separate room to house inventory and prepare coffee.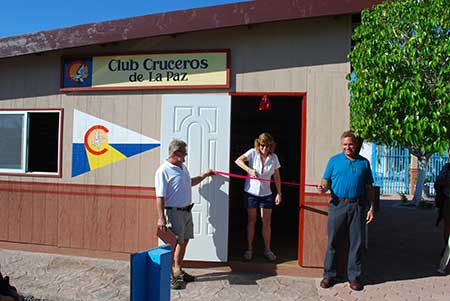 Several members added Styrofoam insulation, the interior walls, painted the interior and installed the coffee prep sink. The Club hired a contractor to build and install the shelving units and the large service counter outside the coffee window. 

The new Clubhouse was born. A ribbon-cutting ceremony was held with Shelly Ward cutting the ceremonial ribbon. A plaque in the Clubhouse commemorates the efforts of the Marina and the members whose contributions were primarily responsible.

Click here to go to our Photo Gallery and see the construction photos.

It is also noteworthy that, in the typical Mexican style of re-purposing, the old clubhouse building was not destroyed – it was transported to Neil Shroyer's property where it now serves his family.
---
Help
Does this bring any stories to mind? Have photos of past Club activities? Can you fill in any blanks for us? Just email the club at crucerosdelapaz@gmail.com!