Read The Latest News...
---

Thanksgiving Photos
Thanks go to Tom Ireton for always having his camera at the ready to record the fun. Click here to go to the Club Cruceros Photo Gallery and view the photos of a fine Thanksgiving feast at Marina Palmira.
---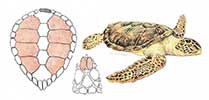 Be a Sea Turtle Spotter
All of the marine sea turtle populations  in  Baja California Sur are listed as  endangered by Mexico and by the U.S. Fish and Wildlife Service . With your help scientists can map out sea turtle distribution and identify high priority Read More...
---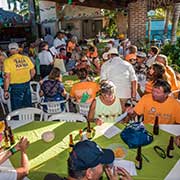 Baja Ha-Ha Welcome Party Photos
What a fun Baja Ha-Ha Welcome Party we had! Over 200 people, great prizes, great food, music, and a crazy fun dance floor! Thanks go to Tom Ireton for the photos.
---
Flu & Pneumonia Immunizations
On December 5 from 9 am - 10 am Dr. Tuchmann will be in the Vista Room giving immunizations for flu and  pneumonia. Sign up in the Club Cruceros Clubhouse. A 50 peso donation is requested.
---
Download the Updated DVD List
The Club Cruceros DVD Database has been updated! Download the .pdf of almost 3,000 DVDs of movies and shows available for club members to borrow.
---
Board Meeting Minutes On-Line
The Club Cruceros Board of Directors voted unanimously to publish the Board Meeting and General Membership Meeting minutes on the Club website as soon as they are available. Read More...
---

Swap Meet Photos
Be sure not to miss the monthly swap meets on Sundays at 9:30 am. The location is usually at Don Jose Marina next to Marina de La Paz and sometimes at Marina Palmira. Listen to the morning net on Channel 22 for more information. Go to the 2015-2016 Photo Gallery for some photos of last Sunday's meet.
---
US Consulate Visits La Paz
A representative from the US Consulate in Guadalajara will be in La Paz Monday, November 9, at 3:00 p.m. The meeting will be in the Vista Room at Marina de La Paz Read More...
---
Board Planning Session
On October 29 the Club Cruceros Board of Directors and guests got together for an idea and planning session for the season. Notes from that gathering are here...
---

Sea of Cortez Whale Identification
The Sea of Cortez is frequented by the largest and most varied population of whales in the world. To aid in identifying the whale you have spotted download & print our Sea of Cortez Whale Identification  chart. The lagoons of the Pacific coast of Baja have the greatest concentration of whales per square mile Read More...
---

Cruiser Spanish
Some things are very easy and some are downright difficult when it comes to cruising in Mexico. If you don't know Spanish or your Spanish doesn't include nautical and mechanical terms it can be frustrating. The following is a list Read More...
---