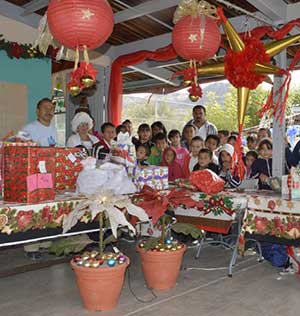 Letters to Santa
by Julie Martinelli/Voyager
with help from Charles Moorhead/Shadowfax
Several Club Cruceros members belong to Club Rotario Bahia de La Paz. One of their annual projects is to collect letters to Santa Claus written by boarding school children from the ranchos/fishing villages north of La Paz. Money is in short supply in these areas, as sometimes kids will mention in their letters. Requests are usually be pretty modest, such as a pair of sneakers and perhaps an item of clothing. Often the Rotary gifts are the only source of Christmas presents.
This year at least 21 boats from the La Paz cruising community welcomed letters from one or more children to fulfill their Christmas wishes. Some La Paz merchants also donated some clothing that kids could choose from.
On December 16, representatives from the Club Rotario including "Cactus" Bob and Carol from Shadowfax (starring as Sra. Claus because Sr. Claus was in the U.S. taking care of his madre), made the trip from La Paz up to the Soledad Albergue rural boarding school to deliver the presents. (Two hours and 64 KM of the drive each way was on a mix of gravel, soft sand, and a bit worse. The turnoff from Highway One is about halfway between La Paz and Constitucion.)
La Soledad is approximately behind San Evaristo and is totally off the grid. Solar power is evident (a very nice Xantrex inverter was seen in the Principal's dorm!); there is a fresh water source nearby.
Before the presents were distributed, everyone was entertained by some live music and a few of the children performed a short Christmas skit. Gifts for 83 children from about age 5 to 14 were passed out individually by Sra. Claus. Once the gifts were given, there was a signal for everyone to open their packages at once. Great fun as you can imagine.
Afterwards everyone had a nice lunch with some lamb birria. Some of the school's fresh food comes from the nearby ranchos and fishing villages – so the kids eat well – there's no source of junk food for miles and miles!